The ROG Phone 6D Ultimate has surpassed notable rivals like the OnePlus Ace Pro and iQOO 10 Pro, which finished in second and third place, in the September AnTuTu rankings of the best-performing smartphones. The only smartphone on the list that doesn't use a Qualcomm Snapdragon 8+ Gen 1 chipset is the new ROG Phone 6D Ultimate, which received a 1,123,036 point score for its use of the Dimensity 9000+ SoC. The CPU, GPU, RAM and UI components combine to make up the final score in this case.
The ROG Phone 6D Ultimate and the Snapdragon 8+ Gen 1-powered OnePlus Ace Pro in second place are separated by just 11,836 points, making this the first time a phone with a flagship MediaTek chipset is placed #1 in AnTuTu's database.

Interestingly, the Dimensity 9000+ chipset performs worse than the Qualcomm flagship processor in the GPU domain while outperforming it in the CPU category.

Moving on the flagship-killer end of the rankings, MediaTek has yet another victory with the OnePlus Ace, which was powered by the Dimensity 8100 Max and finished #1 overall with an 821,025-point total score.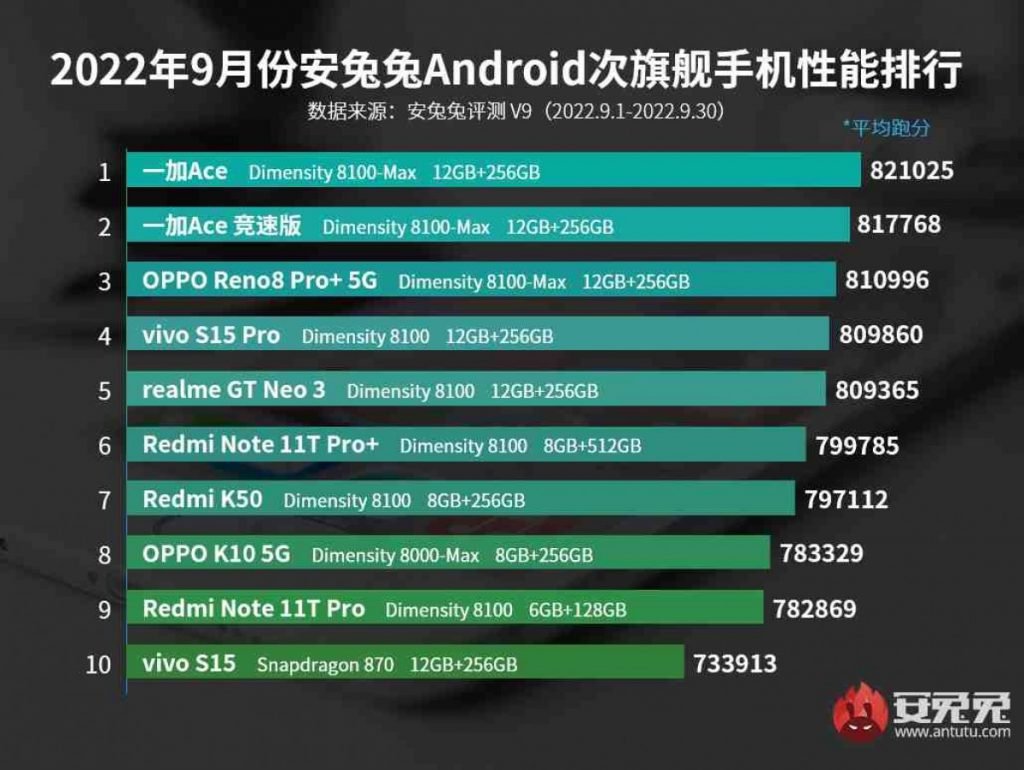 The Oppo Reno8 Pro+ 5G is in third position, followed by the OnePlus Ace Racing Edition, which has the same processor. The Dimensity 8100/8100 Max chipsets dominate the ranking, with the Vivo S15 in tenth place being powered by just one Snapdragon 870.

The top two scores in the midrange category, however, are shared by two iQOO smartphones running on the Snapdragon 778G processor — the iQOO Z6 and iQOO Z5 — while the Oppo Reno8 Pro 5G, which uses the Snapdragon 7 Gen 1 processor, come in third.