The release of Android 13's stable version is likely to coincide with the announcement of MIUI 14, Xiaomi's next operating system. The MIUI 14 will be based on Android 13 and is anticipated to include some of the cosmetic and internal modifications from Google's most recent release. It will also likely include more proprietary features, as Xiaomi often does with each new version of the operating system.

The codebase for MIUI 14 has been named, according to a recent report from Xiaomiui. When the system app was decompiled by staff members at Xiaomiui, the MIUI 14 was apparently discovered. Let's examine MIUI 14 in greater depth and its anticipated features.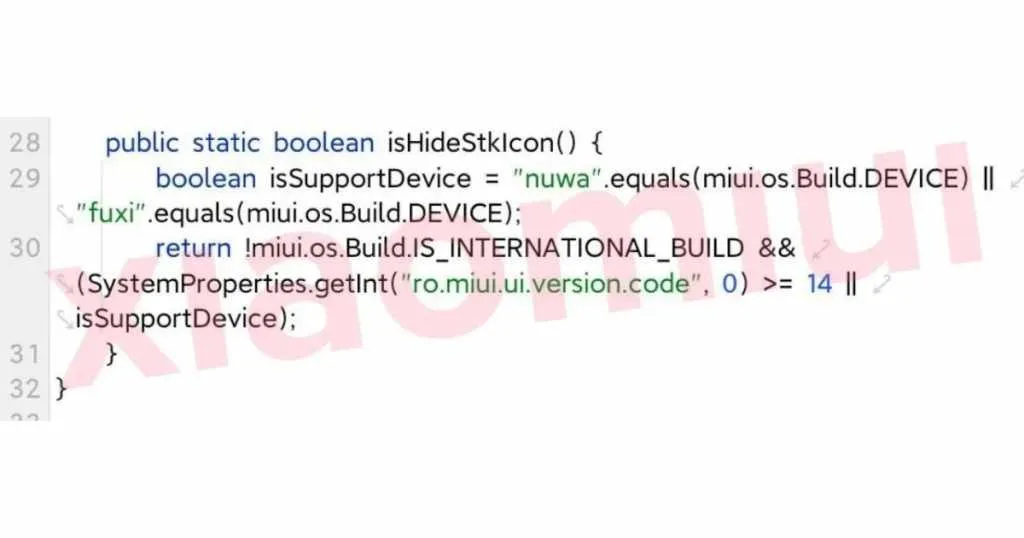 The MIUI 14 designation has been found on the codebase, as seen in the picture above. The purpose of the code above may be summed up as follows. The code determines if the Xiaomi 13 (the device going by the nuwa codename) has MIUI 14 or higher, and if it does, it displays the STK (SIM Toolkit) symbol on the interface. This code simply checks for MIUI 14 on the system app itself to make things simpler.

Xiaomi noted support for the Xiaomi Mi 9 device when MIUI 13 was published, and with the MIUI 14 announcement anticipated shortly, the firm may stop supporting the Mi 10, according to the source.

On August 16, which is the same day Xiaomi's MIUI initial version was published back in 2010—12 years ago—the software skin based on Android 13 is anticipated to be unveiled. The first phone running MIUI 14 will reportedly launch only in November under the names "nuwa" and "fuxi", which might refer to Xiaomi 13 series handsets. MIUI 14 will be publicly unveiled in August.

The business is anticipated to reveal all the key components of the next Android skin as well as the approved devices in August. However, the date is obviously a guess at this time, so we ask that you use it with caution. MIUI 14 is likely to receive more information in the upcoming days.