Honor plans to attend the MWC where it will announce the global launch of a Magic phone – the Honor Magic V, probably? The company's first foldable is one of the more interesting devices to be announced recently.

As per Qualcomm's Weibo account the device will be powered by its flagship Snapdragon 8 Gen 1 platform. Which is the case for the V foldable, though it doesn't preclude the introduction of a new flagship.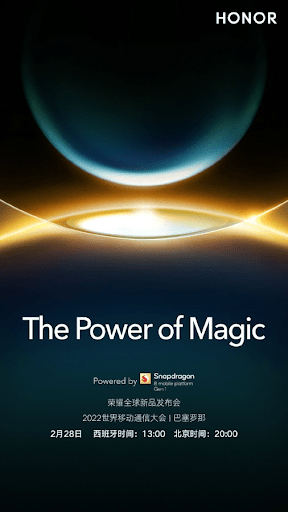 Honor does have a lineup of non-folding Magic phones – the Magic3 trio – were unveiled back in August with Snapdragon 888 and 888+ chips. However, a quick scan for rumors around the market show no signs of sequels of these phones, which brings us back to the Magic V.

And if that is indeed the star of Honor's MWC show, it will have to go up against the P50 Pocket from former parent Huawei, which recently arrived in Europe at a price of €1,600. Honor Magic V's starting price of CNY 10,000 suggests that its euro pricing will be higher than that (the P50 Pocket starts at CNY 9,000 in China).