The Snapdragon 8 Gen 2 chipset-equipped next-generation flagship phones from Xiaomi are anticipated to be unveiled. Up until now, rumors have given Xiaomi's upcoming flagship devices provisional names like the Xiaomi 13 and Xiaomi 13 Pro. However, fresh Weibo data reveals that these gadgets may really be dubbed the Xiaomi 14 and Xiaomi 14 Pro.
On Weibo, a picture of a carton of retail boxes for the Xiaomi 14 is now trending. Additionally, a different graphic that is being circulated on Weibo lists the important details of the gadget. The "Xiaomi 14" and its "2211133C" model number are mentioned in the picture.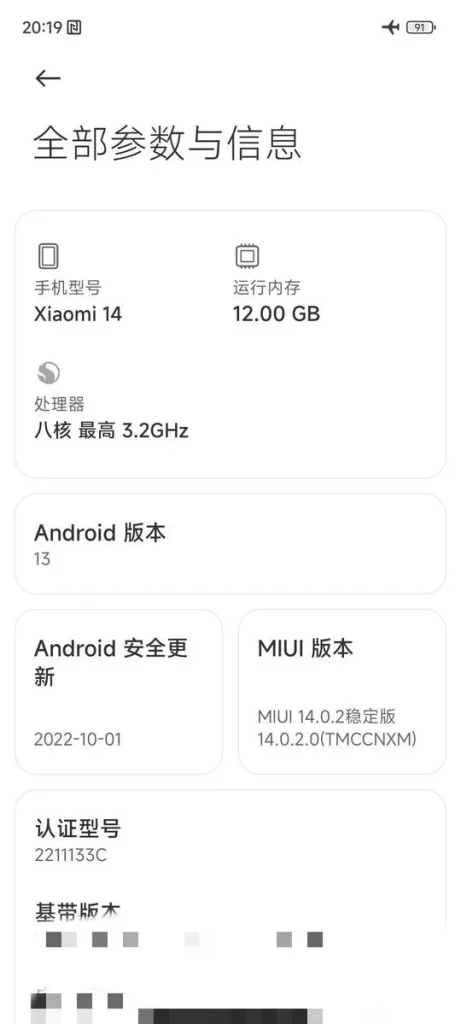 The graphic shows that the gadget is equipped with the October 2018 Android security patch and is powered by the MIUI 14.0.2.0-based Android 13 OS. It has 12 GB of RAM and is powered by the mobile Snapdragon 8 Gen 2 platform.

It was unable to authenticate the validity of the aforementioned pictures. In order to determine if the Xiaomi 14 and Xiaomi 14 Pro will be Xiaomi's next flagship phones, it is advised to wait for fresher news. The number "13" is thought to be unlucky in certain cultures, therefore it's possible that Xiaomi would exclude it from its flagship models.

In the upcoming week, Xiaomi is probably going to disclose the release date of its newest flagship devices. Two devices are anticipated for the lineup, one with a small form factor with a 6.26-inch display and the other with a 6.7-inch display.

Both cell phones should run the upcoming MIUI 14 software. According to a recent source, the business has already begun internal testing of the two gadgets in Asian regions. This means that similar gadgets might soon be available on the international market.